Interested in becoming a Cain Industries representative? Reputable boiler and cogeneration sales professionals can represent Cain Industries' exhaust heat recovery product lines. Waste heat transfer has been our only passion for over 40 years. Our 3,450 standard models provide substantial energy savings by recovering lost BTU escaping through combustion exhaust stacks and transferring it back into desired heat sinks. These fuel savings result in an installed equipment payback of only 18 months... That's an astonishing 75% ROI (average). Our products are designed, engineered and hand built in the USA with global installations.
As a Cain representative, you'll be able to use our exclusive Cain Web Engineering Program: C-WEP (see below for additional information). A very easy to use, but powerful program that guides boiler economizer and exhaust heat recovery silencer system selection and generates quotations quickly. The C-WEP software is free to use. You also have the option to request a quote from our sales and engineering team that will be provided within 48 hours.
Cain Industries offers equipment lease options and can direct you to energy incentives available in your area.
Please submit the Representation Contact Form to start representing the best exhaust heat recovery products available!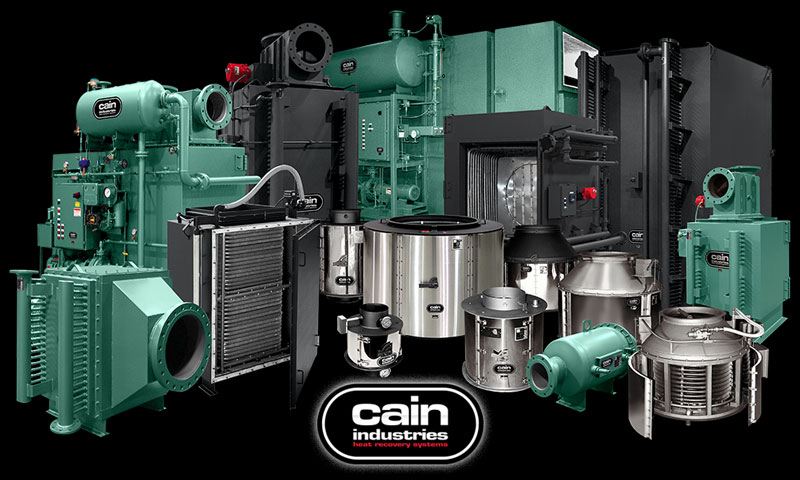 Representation Contact Form
* Required information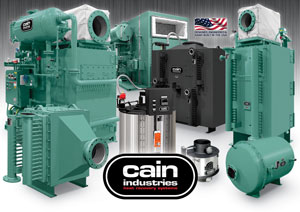 Exhaust Heat Recovery
Systems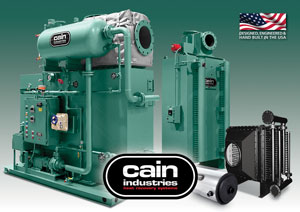 Engine Cogeneration
Systems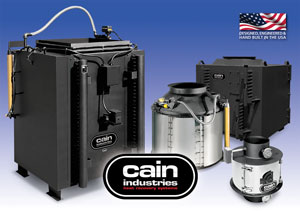 Boiler Economizer
Systems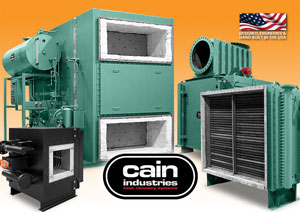 Fume Incineration
Systems
Cain Industries Logo and Website Link
Thank you for being an important part of Cain Industries' representative network. Please include a link from your website to cainind.com. Copy and paste the following html code into your web page. Adjust the "max-width: 500px" to the desired pixel width.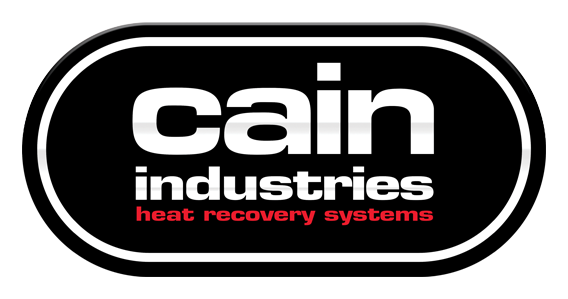 C-WEP | Cain Web Engineering Program
Website: http://www.c-wep.com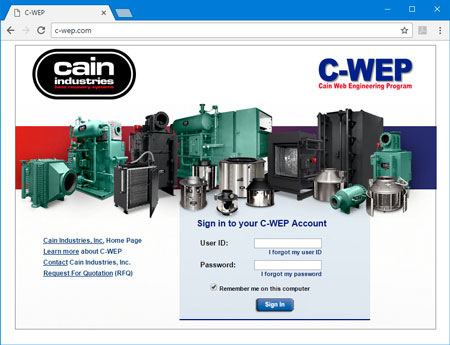 Select and quote Cain heat recovery products right from your desktop!
Designed exclusively for Cain representatives and their network of associates, this sophisticated software program allows users to:
Select the right economizer for every application.
Compare products for the best energy-saving solution.
Track inquiries and status of applications.
Include components, installation costs, and add custom quotation additions.
Receive email notification when new quote requests are ready to be processed.
Process applications delivered to your account with one click.
Complete, customize, print & email detailed proposals.
Additional Features:
Sophisticated engineering calculators to assist with model performance analysis.
Automatic customer database to expedite proposal turnaround to repeat clients.
Comprehensive view of your complete analysis list including applications throughout your rep network.
Output your proposal in PDF or Word format.
C-WEP Quick Quote:
Designed for easy quote turnaround within minutes! Simply enter your combustion source data to automatically generate a list of the top seven economizers. Make your selection, and you're ready to generate a detailed proposal.
Customize your proposals:
Add your signature, company letterhead, and custom literature to your proposals.
Select from a list of flow diagrams that are specific to your application.
Update system descriptions, add a cover sheet, and more.
License your associates:
Authorize your network of associates to access C-WEP and complete applications. This feature is available at c-wep.com, and allows you to:
Authorize your network of representatives.
Customize their access and permissions.
Assign applications within your network.
Manage and oversee all applications.
C-WEP Synopsis:
Cain Web Engineering Program (C-WEP) is a Windows based program delivered from Cain Industries files servers over the Internet to your work station or laptop to generate quotations with Cain exhaust heat recovery products for your customers.
C-WEP is offered in the Analysis Quote version, and/or the Quick Quote version. You'll find C-WEP is fast and easy to use, as it helps you select the optimal heat recovery unit for your customer. Analysis Quote allows more of detailed access to all functions, calculators, model selection processes, analysis tools and enhanced print options, and status tracking to help with a more specific and detailed quotation. Quick Quote is a simplified version of Analysis Quote and is designed for the newer user. At the same time it will help you turnaround a quote within minutes. Quick Quote is included with the Analysis Quote version of C-WEP.
You begin by completing 'on line' one page 2019 Application Data form. C-WEP also emails notifications to you when new applications are available to be processed after the on line form is completed. You can later down load all the information right into the program. You can always while at the potential job site complete the 2019 Application Data pad sheet and later simply key that information directly into C-WEP.
Then you generate all quotations and personalize them on either your Company letter head scanned in once complete with your signature or default to Cain Industries letter head. All proposals are assigned a reference number and saved for later recall.
After you select a model, C-WEP automatically generates and assembles a complete proposal including the transmittal cover sheet, cover letter and system description (with full built in word processing capabilities), performance page, detailed itemized equipment quotation with ROI numbers, submittal drawing with dimensions and performance, select a suggested flow diagram with performance, your selected optional system equipment, any scanned in company .PDF data sheets you might want to insert where you want, and completed with Cain's standard Terms of Sale and Warranty.
Just before printing you'll click 'Preview Draft' to allow you to review your auto-assembled proposal in .PDF format for last minute changes. Upon reviewing the completed quote and you feel it's ready, you'll click 'Save & Print' so you can direct send it to your customers fax machine and/or your printer for professional looking hard copies. You can also 'Email' and your proposal will auto-attach itself to a 'New' email in your Exchange Outlook program.
Just a few of the added features:
C-WEP allows you to develop your own customer data base which includes a history of all contacts developed for your proposal for future use. The one time data entry for all applications eliminates any redundancy.
During the quotation process, C-WEP allows you to build your own component inventory for quoting 'turn-key' proposals. Equipment, hourly labor rates, etc. which is not part of C-WEP products and components can easily be added one time and made available for all of your proposals.
Follow-up with all your proposals is convenient and easy to review with C-WEP.
The C-WEP license version may also allow your capability to license others in your company or sub-license some or all of your licensed version to others outside your company who you might want to act as your agent. You would have the capability to review all jobs within your company and/or sub-licensed agents.
Gas & Diesel Cogeneration Systems (.pdf)
A PDF brochure of Cain l Gas & Diesel Cogeneration exhaust heat recovery systems that include models: ESG1, HRSR, HRSA, UTR1 and UTR.