EM - Energy Manager Boiler Economizer Series
Built to rigid ASME quality control standards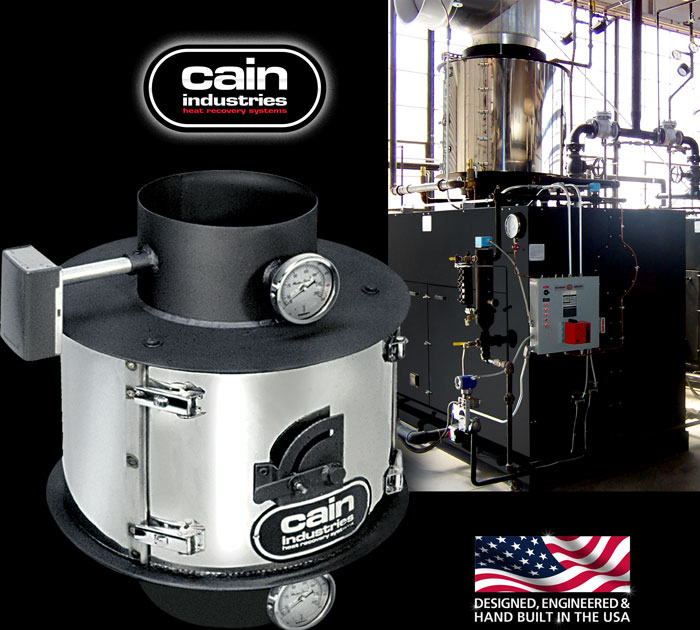 The EM (Energy Manager) is designed to recover heat from combustion sources with atmospheric burners from 200 to 6400 MBH. By utilizing the flow control valve the EM effectively reduces the stack temperature to 250°F or lower (adjustable with the differential pump control as the burner cycles). Ten standard models are designed to operate with low static gas pressure drop for safe, automatic operation on atmospheric, or power burners.
Combustion Sources
Steam boilers, hot water boilers, dryers and ovens
Boiler Exhaust Application
Capacity: 200,000 to 6,400,000 BTU/hr input
Entering Gas Temps: 300°F to 700°F
Heat Sink Types: boiler feedwater, hot water return, hot water storage tank, condensate tank and process water

Features
Built to rigid ASME quality control standards
Highest heat transfer efficiency with AL-FUSE™ finned tubing
Quick release access door latches for ease of maintenance/inspection
Packaged design includes all basic control hardware to properly operate unit in the field
Slip-fit gas connections
Temperature controlled pump controller
Internal stainless steel bypass to modulate heat recovery as needed
Single row finned tubing for maximum efficiency and ease of cleaning
Quick-release tension latches do not require tools
Stainless steel hinged access panels minimize labor and downtime during inspection, cleaning or repair
Includes circulating pump package: in-line circulating pump, inlet and outlet temperature gauges, check valve, relief valve, flow control valve and differential pump control
Guaranteed heat recovery performance
EM Model Selection
The following model selections are determined by stack diameters and BTU/hr input using this simple selection chart. After the correct Energy Manager has been selected, contact your Cain representative to determine your fuel savings and provide a complete proposal with payback period. Stack diameters smaller than standard EM sizes can be accommodated simply with a pair of EM Model to Stack Transitions.
| Model No. | Burner Input (BTU/hr) | Stack Diameter |
| --- | --- | --- |
| EM-6 | 200,000 | 6" |
| EM-8 | 400,000 | 8" |
| EM-10 | 600,000 | 10" |
| EM-12 | 800,000 | 12" |
| EM 14 | 1,250,000 | 14" |
| EM-16 | 1,600,000 | 16" |
| EM-20 | 2,500,000 | 20" |
| EM-24 | 3,600,000 | 24" |
| EM-28 | 5,000,000 | 28" |
| EM-32 | 6,400,000 | 32" |